Zoovivor Camp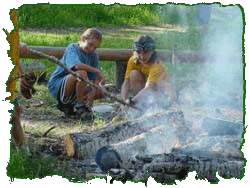 Are you a youngster age 8-12 who likes adventure and thinks you are up to the challenge of Zoovivor Camp? Then this just may be the event for you!
This exciting event pits 4 teams of 5 kids each against each other in variety of challenges for "rewards" while experiencing the Zoo in a new and different way. We promise good times, good food, and in our game you can't be "voted off" of the team. To ensure a quality experience for all participants, team sizes are limited. Find a friend and register together, or come yourself and we will assign you to a team. Cost is $35.00 per child for members, and $40.00 for non-members. Pre-registration is required at least 7 days before the date of the event as these popular camps fill up quickly. On-line registration is generally available 30 days before the scheduled camp date. For more information contact our Education/Volunteer Coordinator at (701) 223-7543 ext. 3 or e-mail educate@dakotazoo.org . Be sure to check the Schedule of Events for dates and times.
If unable to make the class, we will consider it a donation to the zoo. No refunds will be given.
Should zoo camp participants leave early on one or more Zoo Camp days, they will not receive a refund.
We reserve the right to dismiss a child from Zoo Camp who does not meet the Camper requirements, has false information on their registration or health form, or a Camper that continues to misbehave after behavior interventions, without a refund.
In these extremely rare instances, it is the responsibility of the parent/guardian to pick up their child from Zoo Camp immediately.