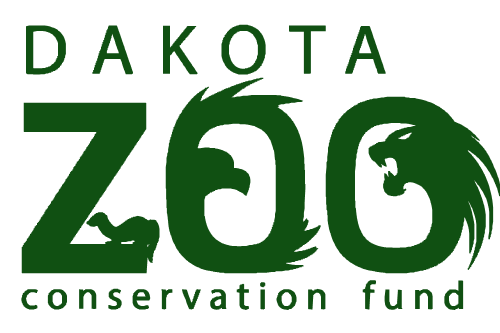 CONSERVATION MATTERS AT DAKOTA ZOO!
Click Here to donate to the Dakota Zoo Conservation Fund.
Conservation is an important part of what we do every day at the Dakota Zoo, and every member and zoo visitor helps play a part in conservation efforts both close to home and around the world. The Dakota Zoo Conservation Fund was established in 2013 with a .25 cent surcharge on each paid admission. Beginning in 2020, $5.00 from every zoo membership sold and .50 cents from every admission will be contributed the fund.
Since 2013, the Conservation Fund has contributed more than $250,000 to wildlife conservation programs, and our own field research and raptor rehabilitation programs.
In 2019, the conservation fund had income of $31,317.46. Funds were used to support the following projects (click here for 2016 expenditures) as approved by the Conservation Committee of the board of directors:
Species Survival Plans (SSP)- Dakota Zoo participates in 16 Species Survival Plan programs for endangered or threatened species. In addition to our seven species of primates, SSP animals include the Przewalski's Horse, Black-footed Ferret, Mexican Gray Wolf, Pallas cat, Snow Leopards, Swift Fox and Tigers.
Population Management Plans (PMP) We are also involved with Population Management Plans for 9 endangered or non-threatened species, including Trumpeter Swans, Tragopan, Tammar Wallaby, North American Porcupine, North American River Otter, Fisher, White-nosed Coati, Canada Lynx, and Dall Sheep.
Raptor Rehabilitation The zoo has served as a rehabilitation facility for injured and orphaned raptors for over 50 years. We currently assist between 40 and 60 birds of prey each year.
Black-footed Ferret Surveys The zoo partners with Prairie Wildlife Research and the US Forest Service to assist with surveys of endangered Black-footed Ferrets at re-release sites in the National Grasslands adjacent to Badlands National Park, SD.
Snow Leopard Trust The Dakota Zoo Conservation Fund helps to support two of the Snow Leopard Trust's ongoing projects -- community based conservation, and a long term ecological study of snow leopards in Mongolia.
Mexican Gray Wolf Pre Release Pen Sitting Dakota Zoo staff members make regular trips to assist the Arizona Game and Fish Department, US Fish and Wildlife Service with the monitoring of critically endangered Mexican wolves that are being acclimated prior to being released into the Blue Range Wolf Recovery Area in eastern Arizona.
Tammar Wallaby Importation The Tammar Wallaby SSP is working with animal capture experts in New Zealand to import a number of Tammar Wallaby. The Dakota Zoo is slated to receive some of these animals, and the Zoo will provide financial support to the importation program, thanks to funds provided by the Dakota Zoo Conservation Fund.
AZA Conservation Grants Fund The Dakota Zoo Conservation Fund makes an annual contribution to the Association of Zoos and Aquariums Conservation Grants Fund, which supports a variety of wildlife conservation initiatives worldwide.
FrogWatch USA The Dakota Zoo and the University of Mary have teamed up to form a FrogWatch USA chapter. FrogWatch USA is AZA's flagship citizen science program that invites individuals and families to learn about the wetlands in their communities and help conserve amphibians by reporting the calls of local frogs and toads. Watch our website or our Facebook page for information on how YOU can get involved!
Tiger Conservation Campaign The Dakota Zoo Conservation Fund makes an annual contribution to the Tiger Conservation Campaign. Accredited zoos across North America are mobilizing to support tiger conservation efforts and raise awareness. The Tiger Conservation Campaign is coordinated by the AZA Tiger Species Survival Plan.Thanks to contributions from supporting zoos and organizations, in 2013 the Tiger Conservation Campaign is focusing on six Wildlife Conservation Society (WCS) projects that benefit wild Amur, Malayan, and Sumatran tigers.
Future Projects and Programs In 2019, the Conservation Fund Committee has expressed their intention to continue to support the programs listed above, and more! As more funds become available, additional projects and programs will be considered.
How you can help Every zoo visit and every zoo membership help make a difference for endangered wildlife in our backyard and around the world. Visit the Dakota Zoo often, or better yet, become a Click here for a list of informative links.
Education Children attending our camps learn about Species Survival Plan Programs, raptor rehabilitation, animal enrichment and what they can do to help. Fourth grade students attend our annual Conservation Day event where they learn about conservation of both wildlife and natural resources. School groups also visit for self-guided tours and educational presentations for all grade levels. Zoo visitors are also able to discover more about the animals they see and conservation efforts for individual species through our "Ask Me" and animal close-up programs as well as our full color informational signs at each exhibit.
Going Green at Dakota Zoo The Zoo tries to "go green" wherever possible, using low voltage fluorescent bulbs and comfortable but energy-conscious temperature settings for public areas of buildings. Aluminum cans, plastic bottles and cardboard are recycled saving landfill space and energy. Building and fencing materials are also recycled or repurposed whenever practicable. The zoo also re-utilizes animal shelters, enclosures and even buildings if possible. Our Nursing Den began its life as a rest room and the Australia Building started out as a Camel Habitat/Administration Building.